When you're upgrading your kitchen or looking to replace an older oven model, the seemingly endless array of options available may be overwhelming. Now you have more brands and types available at your fingertips how can you decide which oven is best for you? When it comes to an oven you have little margin for error, as the appliance while likely sit in your kitchen for years to come.

If you're passionate about cooking then you need an appliance that is built with you in mind, with the build quality to match amazing features that deliver perfect food every time. NEFF is a brand with a long-established reputation for creating innovative features that make life for home chefs simple and that help create amazing meals.

This brand ethos means of the brand's great range of ovens could be ideal for your home. In this handy review Reddipares LTD run through the key features of just one oven, theB57VS24H0B, to help you make the best choice for your next cooking appliance.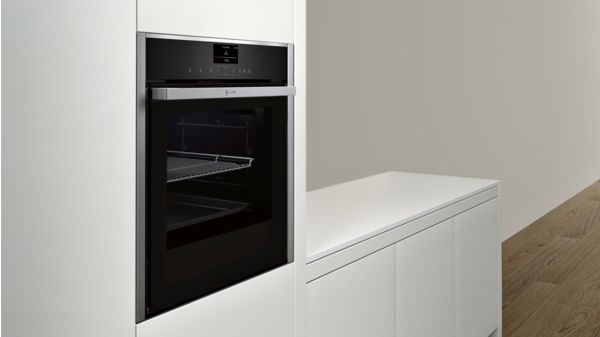 Iconic Design, Flexible Cooking Options

The first thing most will notice about the B57VS24H0B oven is the eye-catching feature NEFF has created exclusively for its ovens, the Slide&Hide door.

With Slide&Hide the oven door elegantly slips under the cavity and is stored out of harm's way, with the rotating handle giving easy one-handed use for adding and removing trays and awkwardly sized foods. This innovative way of opening the oven means even re-basting meats are done with ease, with the retracted door meaning you can rebaste without the need for fully removing your meal from the cavity.

The design of this oven is not the only way that the B57VS24H0B is unmistakenly part of NEFF's line up. When it comes to cooking meals, their CircoTherm system gives a fantastic layer of added flexibility. Created by channelling the oven's hot air to the back of the cavity then directly through channels at different cooking levels, CircoTherm wraps your food in its own envelope of air.

What this means for you are flavours that never intermingle when cooking. You could cook three courses at once and still sustain the desired palate when consuming. In addition, this oven also has two more cooking modes as part of the CircoTherm function. Firstly Intensive, which combines the direct heat of the CircoTherm with Bottom Heat to give a crisp finish. This makes it ideal for blind baking pastry or for perfect homemade pizzas.

For a completely different approach, CircoTherm Gentle is ideal. When cooking lighter dishes such as fish you want to avoid browning or forming any crust. Using a normal cooking mode will mean direct, constant heat which could cause these effects. Using Gentle residual heat is used instead which cooks the meat through completely whilst retaining the delicate texture you need for a perfect meal.

A truly unique option for healthier cooking and a supreme finish, this model features VarioSteam. Injecting steam into your food firstly prevents drying out when cooking things like meats, while also giving a deliciously crisp finish. With the B57VS24H0B there are three distinct levels of steam to choose from.

Controlling cooking functions and monitoring levels of heat are made even easier, with NEFF's Home Connect. Download the app on your iPhone or Android device to give you instant access to the oven's details, meaning even when you're out and about you can always check in on dinner.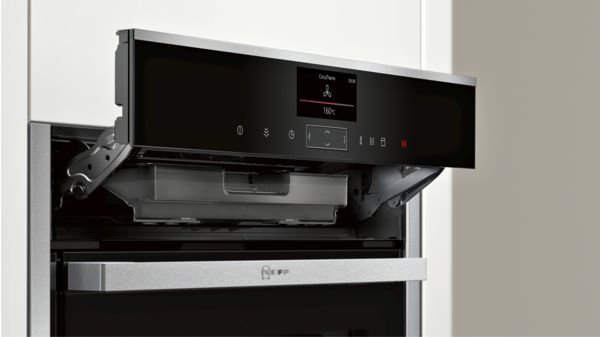 Cleaning Versatility

Plenty of modern ovens contain one way for you to make an easy job of cleaning the interior. However, with the B57VS24H0B, NEFF has taken it one step further with two dedicated functions, designed to be ready for anything depending on your needs. This means with this latest model the effort of removing baked in spills and food is all but eliminated.

To keep on top of the everyday build-up of food there is the EasyClean option. Removing lighter soiling of the cavity is as simple as adding warm water and a few drops of washing up liquid before selecting the EasyClean mode using the NEFF's TouchControl panel. Once the cycle is complete all you have to do is wipe the interior once with a cloth, then you are back cooking again in no time!

For deeper, less frequent cleans there is the more intense Pyrolytic mode. By setting the internal temperature of the cavity to over 400 degrees, over the course of a few hours any baked in residue will be turned to ash. Once Pryolytic mode is completed all you need to do is wipe the ash away then you are left with a truly spotlessly clean oven.
To find out more about the B57VS24H0B contact us at Reddipares LTD, and for information on our flexible delivery options in the

Redditch area

. Call us today on 01527547877, or
if you wish to find out more about the
B57VS24H0B Oven
visit our website for more information.