With everything going on in the news now is a better time than ever to start perfecting your cooking. Staying indoors can seem boring, but the opportunity to develop your culinary skills is one you won't often get without the need for a good excuse! Once you've raided the supermarket for your ingredients you can come home and enjoy the peace and quiet of your own home to work on your recipe.

However, a great meal doesn't just rely on freshly sourced ingredients. You need cooking skill, which takes time to develop, and an oven designed to perform to the highest level. For cooking with perfect results, one of the most common ways to make a mistake is to rely on sub-standard appliances. With NEFF you not only get outstanding German build quality also innovative features that make cooking easier.

With the B1GCC0AN0B oven, you get the maximum potential you can get from a single oven. In this review from Reddipares LTD we cover all you need to know if you're looking to upgrade your kitchen.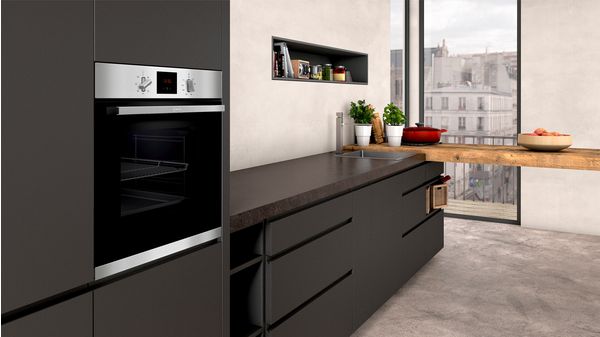 Cooking With Maximum Flexibility

If you are cooking frequently, this NEFF oven is ideal, and with a range of fantastic pre-set functions, even those who are new to the kitchen will find it easy to deliver rich, tasty results straight away. With the versatility of 12 dedicated cooking functions packed into this single oven, the NEFF is futureproofed for whatever you may want to cook up for years to come.

The star of the show for the B1GCC0AN0B is NEFF's unique CircoTherm, this purpose-built way of cooking that means balancing courses or flavours in one oven is easy. Once selected, it pushes heat to the back of the oven then channels it through three vents built-in to each level of the cavity. By channelling the heat in this way CircoTherm technology wraps the food in its own layer of hot air, isolating it on each level.

This means that odours and flavours never intermingle between levels, preserving the taste of your home-cooked meals. Using the CircoTherm with your NEFF oven is as simple as turning it on selecting through the simple Shift Control. If you are looking to multitask by cooking your main meal and dessert at once, then this oven makes it as easy as possible.

This NEFF oven also features the CircoTherm Gentle modes. By alternating the intensity of heat directed at your meal and using residual heat to apply a finish you get reduced levels of browning. This functionality is perfect for producing delicate and flavourful fish dishes without removing moisture.

In terms of capacity, the main cavity houses 71-litres, meaning the two internal racks are provide plenty of flexibility for daily cooking. Even with a larger Sunday Roast you will be able to fully cook your meat of choice with ease.
To find out more about the B1GCC0AN0B contact us at Reddipares LTD, and for information on our flexible delivery options in the

Redditch area

. Call us today on 01527547877, or
if you wish to find out more about the
B1GCC0AN0B Oven
visit our website for more information.